Scholar 7
With single GME accreditation system, there is a need to develop scholarly work within osteopathic training programs. Although many forms of scholarly work are available, Scholar 7 focuses on the basic skills needed to create a scholarly environment within your practice, institution, or residency t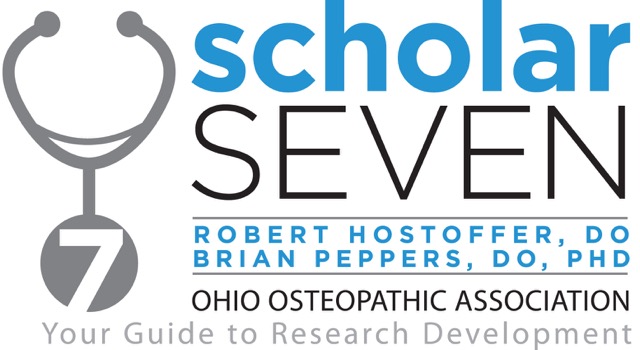 raining program.
It is a series of seven video workshops that you may start and end at any time. The program leads the viewers into the scholarly process. You will be taught that initiating a research project is not difficult. You will be shown how to develop a hypothesis, create specific aims, preliminary data, materials and methods, and conclusions. The completed document will serve as your Institutional Review Board (IRB) submission and grant proposal (though the IRB submission process may vary from institution to institution).
Use this series for fellow, resident, intern and student training at the beginning of each year. Or for faculty development within your institution. Or just to learn more about the research process.

Get access to the SCHOLAR 7 videos.
Session Titles
Session 1: Getting Started with Fun Items (34:15 minutes)
Session 2: Introduction, Hypothesis, Specific Aims (34:15 minutes)
Session 3: Preliminary Data (18:30 minutes)
Session 4: Materials and Methods (23:51 minutes)
Session 5: Conclusions (14 minutes)
Session 6: IRB Review of Application (37:41 minutes)
Session 7: Final Review and Wrap Up (40:09 minutes)
Get access to the SCHOLAR 7 videos.
Continue the Process! Watch for Scholar 4 Coming Soon!



Scholar 4
Session Titles
Session 1: Abstract Development (42:05 minutes)

Session 2: Poster Development (46.44 minutes)

Session 3: Oral Presentation (51 minutes)

Session 4: Manuscript Development (55:27 minutes)

If you have any questions, please contact Dr. Hostoffer or Dr. Peppers for assistance. Scholar 4 and Scholar 7 sessions review basic concepts of developing a scholarly culture within your institution. This valuable information was developed by physicians for physicians and is intended for free and public use. Please share these videos and information with others who would benefit from sound guidance and support toward professional scholarly activity.
About the Presenters

Robert W. Hostoffer, Jr., DO
Hostoffer, who practices in Cleveland, is a nationally recognized expert in allergic and immunologic disorders affecting both children and adults. He is a clinical assistant professor in pediatrics at Case Western Reserve and program director of the Pediatric and Adult Allergy/Immunology (A/I) Fellowship at University Hospitals Richmond Medical Center, the first AOA-accredited A/I program in the US. The program ranks in the top 20 percent of all A/I programs in the nation.
A leader in the medical profession, Hostoffer is a past president of the Ohio Osteopathic Association, American College of Osteopathic Pediatricians, Cleveland Academy of Osteopathic Medicine, and Cleveland Allergy Society. He is the recipient of many awards, including honorary fellow status in the American College of Osteopathic Internists and 2015 Pediatrician of the Year by the American College of Osteopathic Pediatricians.
Brian P. Peppers, DO, PhD
Peppers is a board certified pediatrician and chief fellow of the Pediatric and Adult Allergy and Immunology Fellowship created and led by Dr. Hostoffer. He has an extensive research background from his PhD in organic chemistry, post doctoral work with adjuvant design and synthesis for vaccines and medical research on projects ranging from case reports to bench.
As an emerging leader in the medical profession, Peppers helps medical programs design research projects and increase their overall proficiencies in research. His current work in the Scholar 7 and Scholar 4 program is to help identify and remove barriers that hinder and deter participants from pursuing their scholarly goals.
Peppers is a 2011 graduate of Lake Erie College of Osteopathic Medicine - Bradenton.
Devi K. Jhaveri, DO