Publications
Buckeye Osteopathic Physician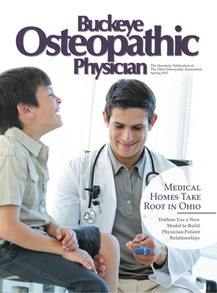 Buckeye Osteopathic Physician is a quarterly magazine distributed free to members as part of their dues. Non-members may purchase a subscription for $25 annually. The magazine publishes a variety of state and national medical news, including articles about osteopathic physicians in Ohio, Ohio University Heritage College of Osteopathic Medicine, legislative activities, and other information pertinent to DOs. Click here to see a past issue of Buckeye. Members can view previous issues of the magazine by logging in to the "Members Only" section.
Attention Advertisers:
You can reach OOA's statewide membership that includes osteopathic physicians, residents, students and other affiliate members as well as colleges, leaders in the osteopathic profession nationwide, and other health-related professionals each quarter. By placing an ad you can leverage this targeted audience to promote your business's products and services. Ad sizes include full-page, half-page (horizontal), and quarter-page (vertical). Frequency discount available.
Contact Cheryl Markino or 614-299-2107 for a rate card.
---
OSTEOFACTS
The OOA distributes the OSTEOFACTS to its members by email every week. The newsletter provides up-to-the minute medical news, legislative alerts, reminders of important deadlines, legal advisories and more. Read an issue online.
What type of of information do you want to see more of? Legislation? Medical Board? Medicaid? Insurance? Professional growth? Use the form to let us know!
OOA members can view the OSTEOFACTS archive by logging in to the "Members Only" section.
---
Ohio DO Conversations
Launched in 2020, the podcast is a casual discussion with leaders in the profession, newsmakers, medical students and others about topics relevant to physicians and those interested in osteopathic medicine, advocacy, leadership, health policy, and more.
SHOW NOTES Links and additional resources for topics mentioned in each episode

Episode 1 A Conversation with OOA President Sandy Cook, DO
Wellness: OOA Virtual Spring Seminar, Ohio Physician Wellness Coalition
Episode 2 A Conversation with OOA President Henry Wehrum, DO
Episode 3 A Conversation with OOA President Jennifer Gwilym, DO
Mindfulness Mondays
---
A Second Voice, A Century of Osteopathic Medicine in Ohio
Doctors of osteopathic medicine today practice side by side with allopathic doctors, employing the same diagnostic and curative tools of scientific medicine, with a difference. A Second Voice: A Century of Osteopathic Medicine in Ohio is the story of that difference. Focusing on the historical experience of a pivotal midwestern state, author Carol Poh Miller illuminates struggles common to osteopathic medicine nationwide as it fought to secure its place in American healthcare.
Written in conjunction with the 100th anniversary of the Ohio Osteopathic Association, A Second Voice traces the origins and growth of the profession in Ohio. It recounts the early legal battles, the establishment of separate osteopathic hospitals, and the hard-fought campaigns to win equal practice rights and to build a state college of osteopathic medicine. Finally, it reconsiders the notorious murder trial of Cleveland osteopathic physician Sam Sheppard in the context of his family's contributions to the osteopathic profession and a prosecution that, evidence has shown, fingered the wrong man.
A Second Voice is a valuable addition to the history of medicine in Ohio and the nation. To order a copy, go to Ohio University Press.
---
The OOA -- Celebrating 100 Years
This video was premiered at the 1999 OOA Centennial Gala, and highlights the history of the osteopathic profession in Ohio, the development of the state's osteopathic hospitals and the creation of the osteopathic medical school at Ohio University. The video features interviews with several of Ohio's prominent osteopathic physicians, as well as friends of the profession.