Health Policy
DO Day
The Ohio Osteopathic Association encourages students to serve as advocates for patients and the osteopathic profession. The association helps to underwrite the cost of student participation at DO Day on the Hill in Washington, DC, by providing charter bus transportation from Athens. Find out more about DO Day sponsored by the AOA.


OOA Health Policy Rotation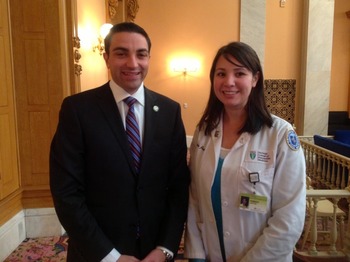 The OOA Health Policy clerkship is designed as a 2-4 week rotation for OU-HCOM fourth year students and CORE residents. The elective, which was started in 2013, qualifies for 4, 6, or 8 hours of credit, and introduces students to the state legislative process and public health policy formation.
Students spend time shadowing the OOA executive director and health department officials to see state government in action. They have an opportunity to observe sessions of the Ohio General Assembly, attend health related legislative committee hearings, talk with legislators, and participate in state agency, coalition and stakeholder meetings.
Students who complete the rotation learn how to read existing laws and proposed legislation; research health policy issues and draft policy statements; effectively communicate with legislators and state agency officials; and testify before legislation committees to support, oppose, or propose amendments.
Students, who are interested in a less intensive rotation are welcome to spend a day shadowing the executive director at the Statehouse. For more information, contact Matt Harney at mattharney@ooanet.org.
| | |
| --- | --- |
| | |
| | |