Wear Your Pride on Your Sleeve
(November 2022) A new project sponsored by the Ohio Osteopathic Foundation (OOF) encourages OOA members to show pride in their profession and their membership by wearing an OOA patch on their white coat.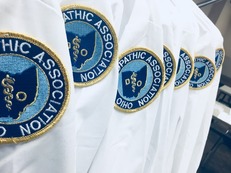 OOF Chair Jennifer L. Gwilym, DO, explained the effort is part of a brand campaign to educate patients, medical staff, and others about osteopathic medicine and raise awareness of DOs and the unique, holistic care they provide. "The patch also shows a commitment to quality care since OOA members pledge to serve as advocates for patients and subscribe to the OOA's mission to maintain the highest standards of ethical conduct in all phases of medicine and surgery," Gwilym said. "Wearing the patch is a simple way to support the profession."
The blue, gold, and white circular patch features the OOA logo—a caduceus with the letters DO as well as the outline of Ohio and the words Ohio Osteopathic Association. It is nearly 3 inches in diameter and fits perfectly on the shoulder or above the breast pocket. The patch can be sewn or attached with Velcro or other adhesive.
Once members have attached the patch to their white coat (or scrubs or polo shirt or office laptop), they are encouraged to take a selfie and post the pic to Facebook, Instagram or Twitter with the hashtag #DOProud. Alternatively, selfies may be sent to cmarkino@OhioDO.org for posting on OOA social media accounts.
OOA members can complete this form to have two free patches mailed while supplies last.