COA Announces 2021 Award Winners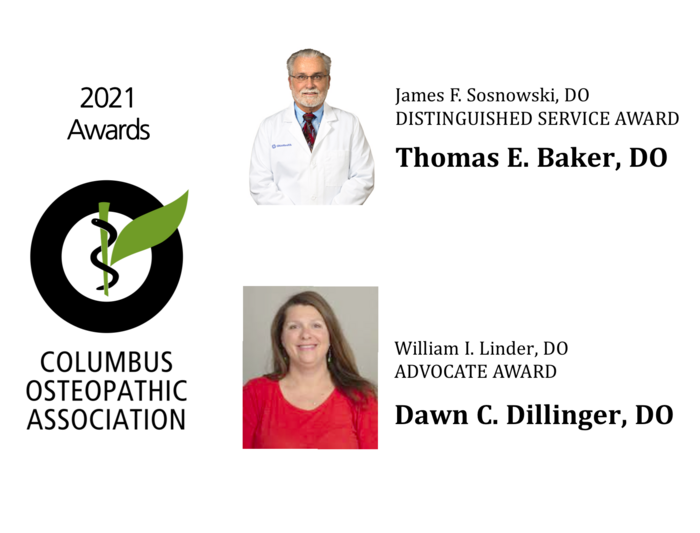 (March 30, 2021) The Columbus Osteopathic Association (COA) is proud to announce its 2021 award winners. Thomas E. Baker, DO, is the recipient of the James F. Sosnowski, DO, Distinguished Service Award, the organization's highest honor, and Dawn C. Dillinger, DO, is recipient of the William I. Linder, DO, Advocate Award.
Awards are given annually to recognize exemplary accomplishments in personal, scientific, community and professional affairs, especially in service to the osteopathic profession.
Named for Captain James F. Sosnowski, DO, the Distinguished Service Award, was instituted in 1988 in memory of the only DO killed in action in Vietnam. On February 16, 1968, a mortar shell directly hit a field hospital in Tay Ninh, Vietnam, where Dr. Sosnowski, who trained at Doctors Hospital in Columbus, was in the operating room with his patient, an American soldier. Both were killed instantly. Dr. Sosnowski, who was president of his graduating class at Des Moines University College of Osteopathic Medicine, was two weeks shy of his 28th birthday.

The Advocate Award, established in 1997, is named in memory of William I. Linder, DO, who served as editor of the COA publication called The Advocate. The newsletter allowed him to marry his writing skills to his great love of medicine. Many of his articles were called prophetic in their ability to predict some of the ways in which medicine has evolved. Dr. Linder was a great proponent of osteopathic medicine and osteopathic medical education. One of the songs he loved to play on his guitar (he was not only a skilled physician and talented writer, but also a musician) was one he wrote himself about Dr. Andrew Taylor Still.