Mentor of the Year
OOA Mentor Hall of Fame
The OOA inducted 19 physicians into the OOA Mentor Hall of Fame during the Ohio Osteopathic Symposium, May 18, 2013. See a slide presentation honoring this first class of inductees. Nominate your favorite mentor for the George L. Eckert, Jr., DO, Mentor of the Year Award.
2023 Mentor of the Year

Kristin Conrad-Schnetz, DO
Dr. Conrad-Schnetz leads teams effectively and gives all she has to the positions she has taken. And she has many. She is the program director for the osteopathic general surgery residency at South Pointe Hospital, the department chair for surgery, serves on an ACGME committee, and was recently installed as president of American College of Osteopathic Surgeons.
Her bedside manner is one for students and residents to emulate. She brings warmth and kindness to a specialty that is often seen as cold and impersonal and treats each patient as if they are the only ones to have her attention the entire day.
As a mentor, she encourages residents and students, demonstrates an appreciation for the care residents provide, and goes out of her way to acknowledge the work residents and students do beyond their requirements.
2022 Mentor of the Year
Ronald J. Russ, DO
The medical student who nominated Dr. Russ said he inspires her to be the best person she can be—and that she aspires to be like him when she becomes a doctor. He is inclusive with students, staff, and patients, and carries himself in a way that exemplifies professionalism and inclusivity.

He is very enthusiastic with his students about learning, teaching, and the principles of osteopathic medicine.
Dr. Russ is a family medicine physician from Cuyahoga Falls.
2021 Mentor of the Year

Shannon Trotter, DO
Dr. Trotter goes above and beyond for the students she mentors. She allows students to rotate with her at any time available. While the pandemic limited in-person interaction, her willingness and openness to guide the next generation of DOs continued. She helped medical students virtually through research projects, she texted them for updates on their lives, she fostered their growth and education, she encouraged them, she inspired them.
Dr. Trotter motivates her students to collaborate with her and others to build vital skills. When she published a book, she invited several students to contribute in varying ways. When she had an idea for a review article or interesting case to publish, she suggested them to her students. She reviewed students research and brainstormed ideas. One student noted: After six months working with Dr. Trotter, I had submitted eight papers for publication and accepted to present with her at the American Academy of Dermatology.
The award was presented virtually during the Ohio Osteopathic Virtual Symposium, April 24.
2020 Mentor of the Year
Francis X. Blais, DO
According to the nominator, Francis X. Blais, DO, inspires students to be diligent with patients and thoughtful in their interactions. He has a standard expectation of excellence and helps students realize their potential to reach further intellectually and professionally. His raw critique of students' work is appreciated because he has taught them to value feedback in order to better themselves.
As president of a free clinic serving Franklin County, Dr. Blais facilitates osteopathic medical student patient experiences and physician observation. More than that, he serves as a role model as a compassionate physician who advocates for his patients. He encourages his students to see beyond their lives to understand their patients.
Dr. Blais is clinical professor of Medicine/Infectious Diseases at Ohio University Heritage College of Osteopathic Medicine.
2019 Mentors of the Year

Michael E. Dietz, DO

Michael E. Dietz, DO, a family physician in Cincinnati, has been on call 24 hours a day, 7 days a week since October 2016. When the local hospitalist group decided to no longer take residents and knowing that his residents needed inpatient medicine experience, Dr. Dietz took it upon himself to be inpatient attending – all while seeing patients in the clinic; serving his numerous administrative roles as assistant medical director and residency director; and taking night calls every day for six continuous months. He has created a welcoming environment for his trainees. He pushes them to continue learning but offers constructive feedback. He is always willing to teach medical skills and share his experience in practice management. He will frequently seek out residents when an interesting pathology is seen in the clinic and offers many ambulatory procedures to his residents on his personal patients.
Dr. Dietz is a role model for residents and students and leads by example. He encourages them to pursue outside interests and to get involved in organized medicine. He is a past president of Ohio ACOFP, vice speaker of the OOA House of Delegates, and president of the Cincinnati District of Academy of Osteopathic Medicine.
Robert A. Palma, DO
Robert A. Palma, DO, is an internist at Doctors Hospital in Columbus. One of the residents who nominated him said Dr. Palma, who graduated from the DesMoines college in 1973, is a PGY 40-plus. He dedicates himself to regular advancement of his medical knowledge and strives to challenge his trainees. Dr. Palma has a unique ability to find a teaching point in every patient. His emphasis on the physical exam coupled with his aptitude to incorporate bedside teaching make hospital rounds more educational. He finds evidence-based medicine to support all decisions with articles and readings pertaining to each patient.
Dr. Palma is an excellent mentor because he inspires his residents to be the best physicians they can be; to lead well-balanced lives; to be life-long learners; to be involved in their communities; and to be leaders in their profession.
2018 Mentor of the Year

Kevin J. Sage, DO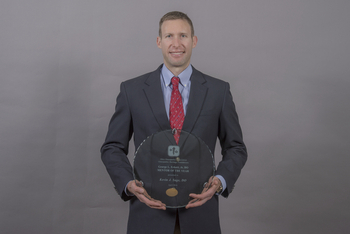 Kevin J. Sage, DO, is program director for the anesthesiology residency at OhioHealth Doctors Hospital. The resident who nominated him noted Dr. Sage's ability to communicate; his skills as a clinical educator; his advocacy that led to the program's successful transition to ACGME accreditation; and his ability to manage hectic work and family schedules. But what makes him an outstanding mentor is the extra mile he goes for his residents. He regularly talks with them about burnout and stress and how to mitigate it. He discusses family life, finances and student loan planning, meditation, workout routines. In the nomination form, his resident said: "The program director job is bigger than just ensuring that residents learn anesthesiology. The role has morphed into ensuring the well-being of residents. Dr. Sage is an example of what medical educators should strive to be."
2017 Mentor of the Year
Kristin M. Ryan, DO
Kristin M. Ryan, DO, practices surgical oncology at Grant Medical Center in Columbus, where she takes a team approach to cancer treatment, working in tandem with the patient's other physicians to create a customized formula. That team includes the patient and his or her close family members, but that team also includes medical students and residents. James Kurtz, DO, a 4th-year resident who nominated her, noted that Dr. Ryan treats all people equally and with sincere respect. He said: "She is an excellent teacher on rounds and will go the extra mile with medical students so that all team members are on the same page." She often has very difficult cases, but still finds a way to include everyone in the learning experience.
2016 Mentor of the Year

David W. Towle, DO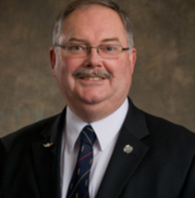 David W. Towle, DO, is a family physician with Adena Regional Medical Center in Chillicothe. He was nominated by Alyssa Glover, DO, a PGY1. In her nomination letter she highlighted his commitment to osteopathic education and to improving patient care.
"Dr. Towle has challenged me to realize that every patient has a background that I only get in pieces," she wrote. "Everyone has a story, and I should strive to learn each patient's story as much as he/she is willing to share."
2015 Mentor of the Year

Timothy D. Law, Sr., DO

Timothy D. Law, Sr., DO, is a family physician in Athens. He was nominated by three third-year students at Ohio University Heritage College of Osteopathic Medicine (OU-HCOM), each whom submitted a separate letter: Julius Musenze, Rishi Patel, and Katelyn Tondo-Steele. They said he provides encouragement and takes time to listen; is a role model; is compassionate with patients and students; encourages students to seek out service projects and research opportunities; inspires those around him to be better people; lives his convictions and has a sense of purpose; promotes the osteopathic profession and encourages students to become involved; and more.
Dr. Law is an assistant professor of family medicine at OU-HCOM in Athens, director of the college's Rural and Urban Scholars Pathways program, and medical director for its Clinical and Translational Research Unit. He routinely takes students to his medical practice niche treating Amish families.
He was the American Osteopathic Association 2014 Mentor of the Year.
2014 Mentor of the Year

Nicholas G. Espinoza, DO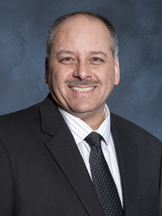 Nicholas G. Espinoza, DO, a family physician from Toledo, received the award, April 26, 2014, during a reception at the Ohio Osteopathic Symposium. The students who nominated him for the award said he provides encouragement to students and residents; is a willing listener; is always dependable; is a role model; and inspires those around him to be better people. They also cited his love for the profession as an important aspect of his mentorship.
He is a CORE assistant dean with Ohio University Heritage College of Osteopathic Medicine at St. Vincent Mercy Medical Center.
2013 Mentor of the Year
Geraldine N. Urse, DO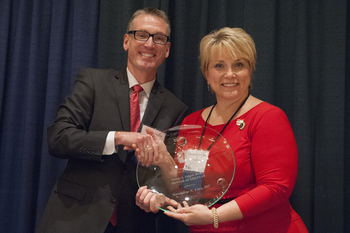 Geraldine N. Urse, DO.of Columbus, was presented the 2013 Mentor of the Year by OOA President John F. Ramey, DO, during the Ohio Osteopathic Symposium in Columbus. Shown here with OOA President-Elect Paul T. Scheatzle, DO, Dr. Urse is interim director of Medical Education at Doctors Hospital, Columbus, and also serves as the OOA class mentor for the OU-HCOM Class of 2017.
The students who nominated Dr. Urse lauded her for providing encouragement; opening her home for social gatherings and treating them like family; being a willing listener; continuing to perfect her delivery of difficult information; being kind-hearted—and yet not afraid to voice her opinion as a leader in the profession;always exhibiting a calm demeanor; and more.
2012 Mentor of the Year

Philip A. "Duke" Starr II, DO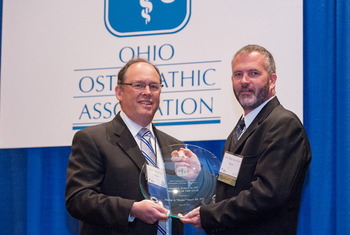 Philip A. "Duke" Starr II, DO, of Warren, (right) was presented the 2012 Mentor of the Year by OOA President Albert M. Salomon, DO, during the Ohio Osteopathic Symposium in April. He is currently director of the Family Practice Residency, chief of the Family Practice Department, and CORE assistant dean at St. Joseph Health Center. In all of these roles he has been a mentor and friend to osteopathic medical students and residents.
For his trainees, Dr. Starr creates a feeling of family, initiating several annual gatherings, hosting Thanksgiving dinner, encouraging participation at the OOA District Academy meetings, and more. The three residents who individually submitted nominations said he is the perfect model for a compassionate, knowledgeable, and professional physician. They appreciate his calm demeanor, individualized support, and accessibility, but also his clinical skills, including OMM.
2011 Mentor of the Year

Joni S. Canby, DO

Joni S. Canby, DO, of Youngstown, was nominated for the first-ever George L. Eckert, Jr, DO, Mentor of the Year award by Louis Volino, OMS III (right). The award was presented during the 2011 Ohio Osteopathic Symposium.