DeWine Signs State Budget Bill
[July 5, 2023]
Ohio Gov. Mike DeWine signed Ohio's Fiscal Year 2024-2025 operating budget bill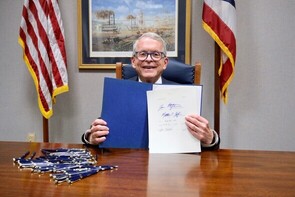 into law.
DeWine said HB 33 focuses on providing new opportunities for jobs and economic development, helping Ohio's children get a better start in life through education initiatives and unprecedented support for mothers and children, a historic investment in mental health services and infrastructure, and significant incentives and policies to improve the quality of nursing home care.
"I am proud to sign this budget, and while it makes historic investments in Ohioans across their lives, I believe we are doing more to support and encourage Ohio's children to lead happy, healthy, and productive lives than ever before," DeWine said. "Whether it is helping them get the healthiest start in life by providing top-notch health care for moms; to expanding access to quality early childhood education; to ensuring their teachers have the resources and skills needed to teach students how to read in the way their brains learn to read; to providing prevention and early intervention tools for those struggling with mental and behavioral health issues; to expanding access and opportunity for all types of training, certifications, and degrees after high school graduation, and continued career development; through ensuring Ohioans have a high quality of life and the highest quality of care as they age, this budget helps make Ohio the heart of opportunity for everyone."
DeWine issued 44 line-item vetoes to HB 33. He vetoed the Legislature's attempt, for the second time, to prohibit local communities from banning the sale of flavored tobacco products. He also rejected language that banned universities from mandating students get certain vaccines in order to be on campus. In his veto message (Item Number 40) he said the provision was overly broad and may compromise the overall health and safety of university students.
Of interest to physicians, the budget bill includes provisions to ensure that physicians' private addresses are not posted on the medical board's website and an increase in Medicaid provider rates. It is hoped the new Ohio Medicaid Physician Fee Schedule will encourage participation in the program.
DeWine had extra time beyond the June 30 constitutional deadline thanks to a three-day extension he signed previously.