Giving Back, Looking Back
Q&A with Jennifer L. Gwilym, DO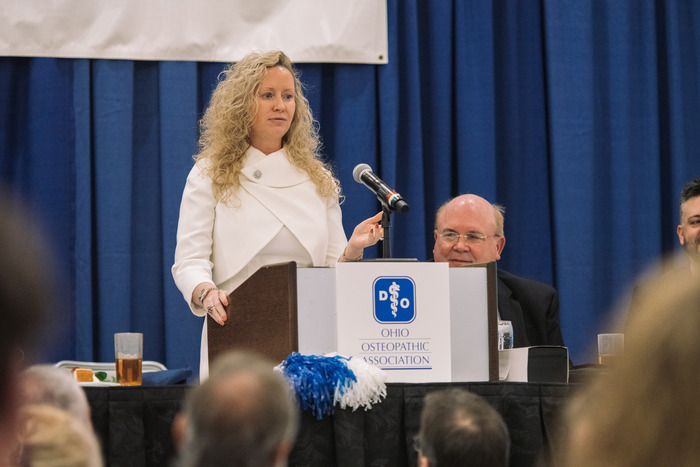 Jennifer L. Gwilym, DO, a family physician from Athens, served as OOA president this past year, from May 2022 to May 2023. She has been on the OOA Board of Trustees since 2014 and has been actively involved in organized medicine, particularly health policy.

A dedicated preceptor known for providing exceptional training and care throughout Central and Southeast Ohio, she has served as a clinical faculty member at Ohio University Heritage College of Osteopathic Medicine (HCOM) since 2007. In January, she was named chair for the HCOM Department of Primary Care.

During her installation speech Dr. Gwilym talked about her road to mentoring in medicine. She listed the many mentors who played such an important part in her growth as a person, physician, and leader. It has come full circle since she is now an important mentor for so many. "This is my opportunity to give back, not only to the profession but also to osteopathic medical students and residents who are the future of our profession."

In addition to mentoring, she has worked throughout her term to move the Ohio profession in the right direction. She has fostered impactful relationships with partners and demonstrated sound leadership. We thank her for her dedication and service.

Here, she discusses her views on leadership, the OOA, and more.

Tell us why you got involved in the OOA and decided to take on leadership positions and what your presidential term entailed.
Simply, I enjoy the fellowship and camaraderie with other DO physicians. I took on leadership roles because I wanted to be more involved and provide input to the profession. I like being involved, "in the know" if you will, and being included in decision making. Also, I think that people do not realize what a fun and exciting group of individuals make up the OOA.

I believe that I am an inclusive leader because I strive to include others in important decision making for the future of osteopathic medicine in Ohio. I see scope of practice encroachment as one of the biggest challenges that DOs face today. A large percentage of patients do not realize that there is a difference between physicians, nurse practitioners, and physician assistants. A lot of my legislative work has been in this area.

I've also focused on physician wellness. This past year we implemented Mindfulness Mondays.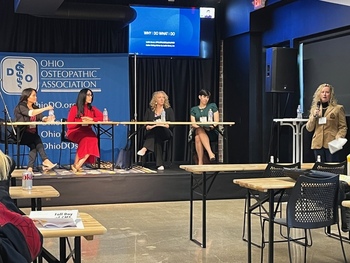 Mindfulness is defined as the practice of purposely focusing your attention on the present moment—and accepting it without judgment. The concept of mindfulness has been found to be a key element in stress reduction and overall happiness. Mindfulness Mondays are free monthly sessions, held on Zoom, just for members. We've had a variety of topics: guided relaxation, beginner yoga, meditation, humor, music, and more.

Quality CME programs were also a focus. Last fall we hosted "Critical Conversations," a three-hour block to address implicit bias and provide tools and insight to maximize care. We joined with other osteopathic state associations to cosponsor quarterly virtual education called Simply CME as well as the Virtual Osteopathic Conference, a weekend program offering 48 hours. These programs along with the Ohio Osteopathic Symposium are now available on-demand.
I would like my presidential legacy to be one of love of the profession with a can-do attitude of service.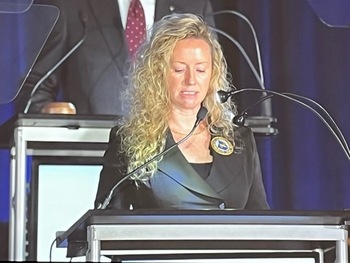 Let's talk about students, mentoring, and your role at HCOM...
Working with and inspiring students is the best part of my job!

I think that mentorship is one of the most important pillars of osteopathic medicine. As physicians, we can shape the careers of future physicians by providing support and giving back to our profession.

Almost all OOA past presidents have worked with HCOM students as preceptors. As full-time faculty and Department chair wearing both HCOM and OOA leadership hats has been an easy balance, they go hand in hand. The OOA supports OU-HCOM and in turn, OU-HCOM provides the OOA with our future members.
Thanks Dr. Gwilym for a great year!