Medical Student Completes OOA Rotation
[May 1, 2019]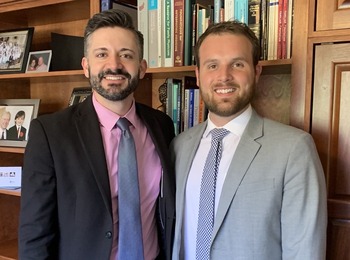 Ryan Paulus, a fourth-year medical student at OU-HCOM Dublin campus, completed a two-week health policy rotation at the OOA office last month. He attended committee hearings, spent time learning about the legislative process, analyzed the effect of select health care bills on physicians, and met with his state legislators.
Paulus, who is originally from Celina, Ohio, is set to begin a Family Medicine residency in July.
The OOA health policy rotation is a 2-4 week elective that introduces students to the state legislative process and public health policy formation.
photo (l-r): Harney, Paulus