OOA Board Appoints New Executive Director
(February 26, 2018) The Ohio Osteopathic Association Board of Trustees unanimously approved Matt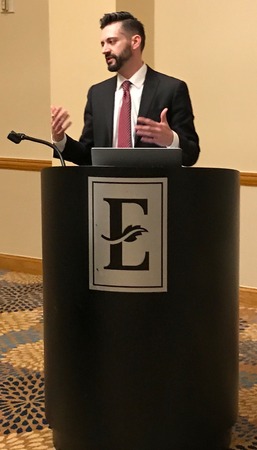 Harney, MBA, (right) as executive director of the Ohio Osteopathic Association and president of the Ohio Osteopathic Foundation at the Board meeting yesterday. He also becomes executive director of Ohio ACOFP. Harney replaces Jon F. Wills, who has served the OOA for 43 years, and transitions to the position of executive director emeritus.
"I'm honored to expand my service to the osteopathic profession," Harney said. "Ohio has an exceptional national reputation and I'm deeply humbled to have this opportunity to lead Ohio DOs into our next chapter. This is the moment for osteopathic medicine. Now more than ever, patients are seeking a whole-person approach to wellness and our 4,700 osteopathic physicians are uniquely equipped to answer the call. I look forward with great anticipation to getting to know the osteopathic family all across Ohio."
Before joining the Ohio Osteopathic Association team, Harney served the Oklahoma Osteopathic Association as associate executive director and director of advocacy and legislation for five years. In this capacity, he led the mentor/mentee program that paired osteopathic students with physician mentors, coordinated the "Doctor of the Day" program at the state capitol, presented legislative updates at seminars and district meetings, represented the organization in stakeholder groups, and served as a liaison to the medical students. He also led messaging efforts to the Oklahoma membership and the public, among other duties. This past fall, Harney was inducted into Omega Beta Iota, the national osteopathic political action honor society that recognizes politically active medical students and professional mentors who demonstrate excellence in health care politics.
Before his work in association management, Harney owned a political consulting firm and served as executive director for the campaign arm of a state legislative caucus.
A native of Tulsa, he is a graduate of Oklahoma City University, where he received his MBA and undergraduate degree in economics.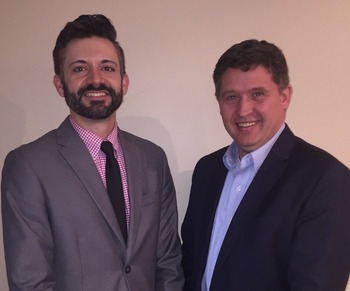 OOA President Sean D. Stiltner, DO, said the association conducted an extensive search to find Wills' replacement. "We had a Transformation Committee consisting of Board members and other leaders in the profession," he said. "We reviewed about 30 candidates and it was Matt's credentials and experience within the osteopathic medicine world that attracted us."
The Ohio Osteopathic Association, founded in 1898, is a non-profit professional association that advocates for Ohio's 4,700+ licensed osteopathic physicians. DOs represent 16 percent of the total physicians practicing in Ohio and 28 percent of the state's family physicians. The OOA's mission includes promoting Ohio's public health and advancing the distinctive philosophy and practice of osteopathic medicine.
To reach Matt Harney, call the OOA office at 614-299-2107 or email him at MattHarney@ooanet.org.