Ohio DO Testifies in Opposition to HB 177
[November 20, 2019]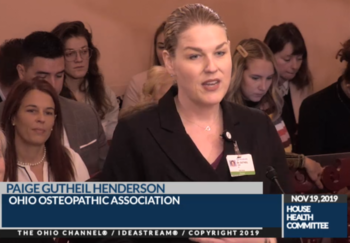 Paige Gutheil Henderson, DO, a Columbus-area family physician, testified at the Ohio House of Representatives Health Committee yesterday explaining why removing collaboration agreements between a nurse practitioner and a physician is detrimental to patient care.
HB 177, legislation which permits advance practice registered nurses (APRNs) to practice and prescribe independently, is under consideration in the Ohio House of Representatives Health Committee. At the hearing yesterday a new version of the bill was released that provides additional scope of practice expansion.
Henderson said the team-based approach to care is best for patients. "Optimum health care is provided when all members of the health care team are engaged in responsive care coordination," she said. "The contributions made by mid-level providers such as nurse practitioners, among many others, are invaluable. I have been part of wonderful teams including nurse practitioners. However I strongly believe that optimum care is provided by a physician-led patient care team."
She outlined the differences in education and training between physicians and nurse practitioners, noting residency training alone requires a minimum of 12,000 hours. In contrast, nurse practitioners obtain as little as two years of post-graduate education that can be obtained entirely online with as little as 500 hours of training. Read her testimony.
The profession continues to actively lobby against HB 177. If physicians are interested in testifying at a future Committee meeting, contact Executive Director Matt Harney (mattharney@OhioDO.org). DOs who actively collaborate with APRNs would be the best candidates for oral testimony.