Medical Students Serve Health Policy Rotation
[March 29, 2019]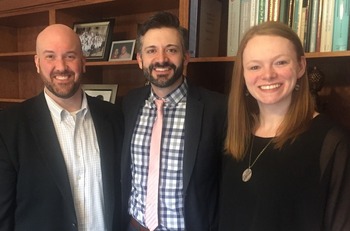 Two Ohio University Heritage College of Osteopathic Medicine (OU-HCOM) students completed health policy rotations at the OOA office this month.
Adam Coridan, OMS IV, and Effie Morway, OMS IV, attended legislative committee hearings, met with state lawmakers, participated at state agency meetings, and spent time analyzing the impact health care legislation has on physician practices.
Coridan, a student at the Dublin campus, sits on the AOA Board of Trustees. His rotation was four weeks. He joined Executive Director Matt Harney at an Ohio Lobbying Association presentation on the state budget. It was a familiar topic, as Coridan worked in state government as a budget analyst before going to medical school.
Morway, a student at OU-HCOM Cleveland, served a two-week rotation. She met with her own state legislator, Rep. Terrance Upchurch, and shadowed a Cleveland-area lawmaker, Sen. Nickie Antonio.
photo (l-r): Coridan, Harney, Morway