OOA Helps Launch Campaign Encouraging Ohioans to Mask and Distance
Members Invited to Support Effort with Hashtag, T-shirt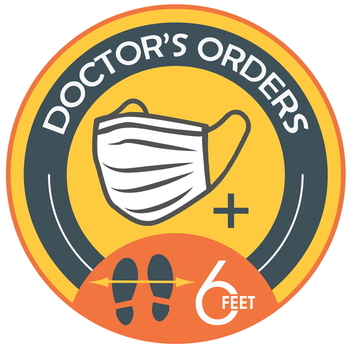 (July 8, 2020) As Ohio continues with daily life during a pandemic, the Ohio Osteopathic Association (OOA) and other physician and health care organizations urge everyone to remember MaskPlus6.
A new social media campaign Doctor's Orders: Mask + 6 Feet is underway this week using Facebook, Twitter, Instagram, and other channels to urge Ohioans to wear a face covering and practice physical distancing when in public.
As part of the campaign, OOA is asking members to use the hashtag #DoctorsOrders and share photos and selfies of themselves wearing masks while not only at their medical office or hospital, but also while doing day-to-day activities. In addition, members can promote the campaign with a #DoctorsOrders shirt to let others know of the importance of mask-wearing and social distancing. A small contribution will be made the Ohio Osteopathic Foundation for every purchase. Shirts will begin shipping on August 7.
The public is also invited to post their masked selfies using the hashtag #MaskPlus6.
"We urge extreme caution and compassion by wearing a mask or face covering while providing physical distance with others when in public," said Sandra L. Cook, DO, a family physician from Ashtabula. Cook, who is president of the OOA, stressed that the highly contagious novel coronavirus is thought to spread mainly by close contact from person-to-person. "Some individuals can contract COVID-19 and yet never present symptoms, so they don't know they have it. The virus can spread even between individuals without symptoms. That's why #MaskPlus6 is so important."
The virus impacts everyone differently, as some never feel sick while for others it is deadly. In particular, older adults and those with severe underlying medical conditions are at a higher risk of developing more serious complications. In Ohio, the median age of coronavirus patients is 45, with almost 60 percent in the 20-49 year old range.
Nationwide, COVID-19 has claimed over 133,000 lives in four months and over a half million across the globe. More than 50 countries and a growing number of US states and localities have mandated the wearing of masks in public. Starting today, Ohioans in seven counties (Butler, Cuyahoga, Franklin, Hamilton, Huron, Montgomery, Trumbull) are required to wear facial coverings when out in public. Under the state's new Public Health Advisory System, masks are mandated for counties designated as Red Alert Level 4 or Purple Alert Level 4.
In addition to using face coverings and distancing, DOs and other health care professionals urge patients and the public at large to follow all safety guidelines to prevent spread such as regular hand washing, routinely disinfecting your home, and others.
Other medical organizations involved in the campaign include the Ohio State Medical Association, Ohio Academy of Family Physicians, Ohio Chapter of the American College of Emergency Physicians, Ohio Psychiatric Physicians Association, and Ohio Association of Community Health Centers.
The Ohio Osteopathic Association is a non-profit professional association that advocates for Ohio's 5,000+ licensed osteopathic physicians (DOs). DOs represent 16 percent of all physicians practicing in Ohio and 28 percent of family physicians. OOA has been serving the osteopathic profession and Ohioans since 1898 with a mission to promote Ohio's public health and advance the distinctive philosophy and practice of osteopathic medicine.